The 2013 Fantasy Football Preview continues with five interesting running backs.
Matt Forte - 1600 yards from scrimmage; 55 receptions; 10 total TDs.
Poised to thrive in a new offense.
Last season Matt Forte battled injuries and an inept Chicago offense that failed to properly utilize their best offensive weapon not named Brandon Marshall and still managed to put up solid numbers. First year coach Marc Trestman has revamped the Bears offense and has indicated that Forte will play a larger role both rushing and in the passing game. This would make him especially valuable in PPR leagues. However Michael Bush is still in the wings to poach Forte's TD potential.
Forte's 44 receptions last year were a career low - he has averaged 53 throughout his career. Assuming an uptick in targets Forte could set new career high in receptions and yards from scrimmage. If Forte can stay healthy, I think he will thrive in Trestman's new offense and go OVER that stat line. Expect production along the lines of 1700 yards from scrimmage, 65 receptions and 10 TDs.
David Wilson - 1000 yards from scrimmage; 25 receptions, 10 total TDs.
Back-flips and fumbles will get you in Coughlin's doghouse every time.
Over the final four weeks of last season only six running backs had more points than David Wilson. His raw athleticism and explosiveness were very impressive and he ended the season on a high note. However, prior to those last four weeks, Wilson's propensity to cough up the ball had him bouncing in and out of Tom Coughlin's doghouse while Andre Brown excelled as the starter. The latest reports out of Giant's camp have Brown and Wilson sharing carries this coming season.
Wilson is more athletic and explosive than Brown and should get plenty of looks in the passing game. Out of the two backs I like Wilson more long term, however I think Wilson's draft price right now is too high. Ranked at #17, he is generally being drafted in the late 3rd round early fourth - for that price there are other RBs available that have a better shot of being the clear #1. I think Wilson's propensity to fumble does him in and he ends up back in Coughlin's doghouse. I predict Wilson goes UNDER and ends up closer to 750 yards from scrimmage, 25 receptions, and 7 TDs.
Jamaal Charles - 1800 yards from scrimmage; 55 receptions; 10 total TDs.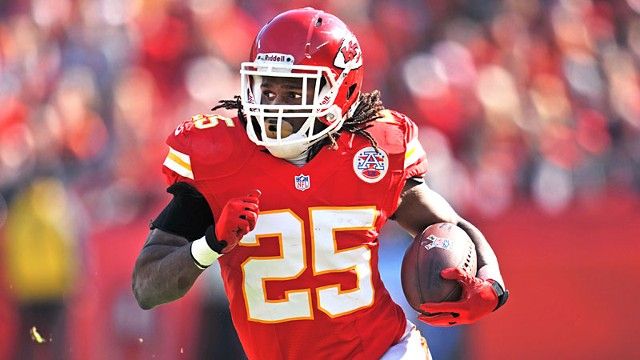 Poised for a breakout.
Jamaal Charles is one of the most talented backs in the NFL and still only 26 years old. He is poised to have a huge year in Andy Reid's new offense in Kansas City. Sure, Andy Reid loves to throw the ball a lot, but his offenses have also featured some of the most reliable and high scoring fantasy RBs over the years. I expect Jamaal Charles to be comparable to the production of Brian Westbrook in his heyday.
Last year Charles had 1725 yards from scrimmage but only 6 TDs. Alex Smith needs an offensive system based on short quick throws. This will benefit Charles as he will get plenty of looks in the flat and he has the speed to turn it upfield. Furthermore Charles TD totals should go up just based on the law of averages. Expect Charles to go OVER to the tune of 2000 yards from scrimmage, 60 receptions and 10 TDs.
Maurice Jones-Drew - 1600 yards from scrimmage; 40 receptions; 12 total TDs.
"Quick! There goes the Jag's Offense"
Owners who drafted MJD with a top ten pick last year certainly felt the full pain of his season ending injury as he had a paltry 500 yards from scrimmage last year with 2 TDs. However, MJD claims he is healthy, pain free, and poised for a bounce back year. With Blaine Gabbert somehow still the starting quarterback in Jacksonville, the Jaguars will need MJD to keep them in games. Expect them to rely heavily on MJD in the offense which will give him plenty of opportunities to rack up fantasy points.
Right now MJD is ranked at #16 for RBs and has been going on average late in the second round/early third round. As a RB2 he has immense upside and could possible even reclaim his RB1 status if he can stay healthy and the Jags stay bad (one of these is more likely - I'll let you guess which one.) I think MJD is good for 1600 yards from scrimmage, but I think he will go OVER in the receptions catching closer to 55 receptions over the course of the season.
Reggie Bush - 1300 yards from scrimmage; 60 receptions; 8 total TDs.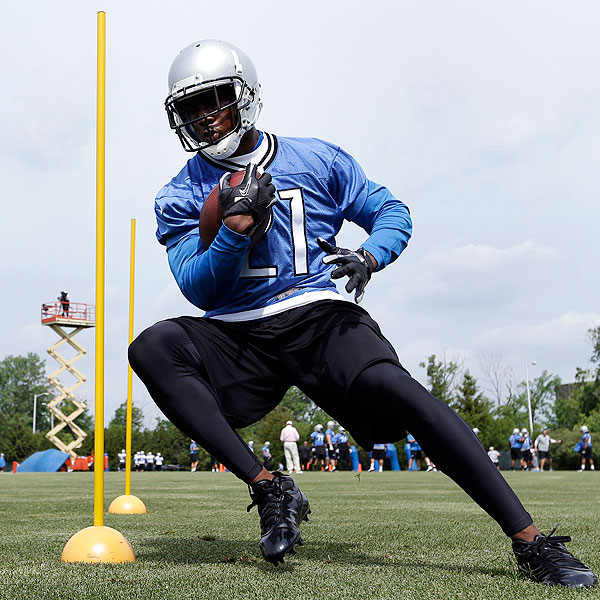 "Ooops, I think I pulled something"
After a disappointing run in New Orleans, Reggie Bush has done much better the last two seasons in Miami putting up respectable rushing and receiving numbers. The move to Detroit should only help his value especially in PPR formats. Bush has good hands and the running back tandem in Detroit last year featured a lot of screens and short passes to the flat. With Bush as the clear #1 the only thing standing between him and a very good season is his health. Bush is always an injury risk and the increased workload in Detroit could result in him being injured.
If he stays healthy he is a solid RB2 in PPR leagues. However, I just don't believe that he will stay healthy all year. Taking into account some time off for injuries I think Bush will go UNDER that stat line. Expect something more along the lines of 1100 yards from scrimmage; 55 receptions; and 6 TDs. If you draft Bush be sure to snag Mikel Leshoure as a late round handcuff for when Bush is injured.