Eventually, at some point in a persons life, they realize two things. First, drinking out is actually very expensive and not conducive to being a responsible adult and second, entertaining is fun but people want drinks. The easiest way to deal with these realizations is to set up a home bar. Today in Part I we will explore what you need to set up a home bar and what items you want to include. Tomorrow in Part II we'll explore stocking your bar with alcohol.
Setting Up Your Home Bar
Obtaining a Bar
Space in any size apartment or house is generally comes at a premium. Few of us have the space -or money - to set up an extravagant home bar like the one above. However, if you are going to have a functioning bar in your place then you do want to have a space for storing everything and space to work. Depending on your space and desires this can be nothing more than a cabinet in the kitchen or it can be a stand alone liquor cabinet in your living/dining area. Whatever you choose the most important thing to remember is that you need to have space to store all the glasses, bottles and tools and you will need to be close to a flat surface where you can work.
The most traditional option: a liquor cabinet




For a stand alone bar, some non-traditional (and less expensive) options include kitchen carts like
the one below from Ikea
. Bottles and glasses can easily be stored on the shelfs below while your bar tools can be stowed in the drawers. There is also a
smaller version here
. (added bonus? it can be moved to wherever the party is!)
At the end of the day, if you are in no rush to buy something, the best option is to search thrift stores, second hand shops and similar places for a used cabinet or table. Although I am not the biggest fan, I know some people have also had success looking on places like Craigslist. There are some great old school liquor cabinets/tables like the one below which can be had for a minimal amount.
The Bar(e) Essentials
Once you have something to store everything in, it is time to begin outfitting your bar. There are a few essential items that any home bar needs; however, how much you want to spend on each of these items is completely up to you.
1) Shaker
The shaker is an essential item for making any cocktail and there are thousands of choices. Literally. There are faux
hipster shakers
made with mason jars, there are really expensive
swordfish shakers
and fancy ones with
drink recipes on them
. But at the end of the day, all you really need is a simple shaker that doesn't leak. You can find a solid option for
less than $5
on the internet.
2) Basic bar tools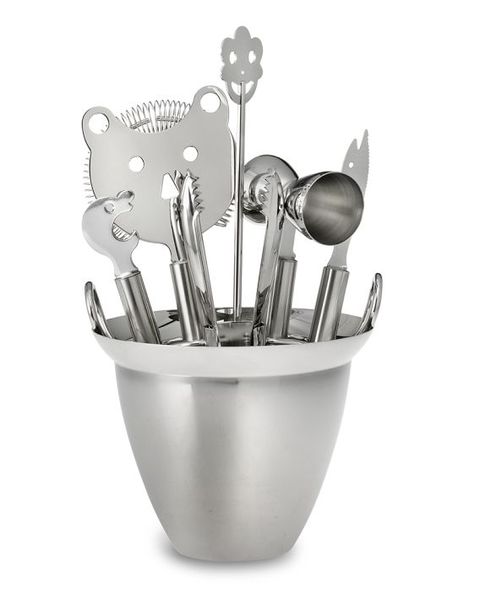 Do I really need all this?
When it comes to basic bar tools, there are really only 3 things you need. A bottle opener/wine corkscrew, a muddler, and a jigger (measuring glass). Most bar tool kits come with a variety of other tools including a strainer, a stirrer, a small knife. These other items, while useful, are not necessary to buy since you can use items already in your kitchen in their place. For a strainer, your shaker will have a top piece that comes off so that you can drain the shaker without the ice. A spoon can double as a stirrer and a you have knives in your kitchen.
Now for the items you do need. A bottle opener/corkscrew can be had anywhere
for a few dollars
. A muddler is used much like a pestle to mash - or muddle - fruits, vegetables, herbs and spices for mixing into drinks. I have a nice
wood one
I love, which I got as a gift for our wedding. There are also simpler and cheaper options out there like this
basic stainless steel one.
Finally, the jigger. A jigger is used to measure a standard shot of liquor. you can get the classic single/double jigger used by most professional bar tenders like t
his one here
. An alternative option is a
measuring shot glass
. I have one of these and use it all the time.
3) Glasses
While it may have been acceptable to drink liquor out of a red solo cup in college, its not really socially acceptable to do that anymore and it is never acceptable to drink out of this
monstrosity from Tervis
. You will want to assemble a selection of classic glasses for your bar. However with
so many glasses for different drinks
it can be difficult to determine which glasses are necessary and which are superfluous. Really, it comes down to what you like best and what you think you will drink a lot of. If you love Moscow Mules and think you plan to drink them all the time, then by all means invest in
a set of copper mugs
. But chances are, you are just planning on serving a basic array of drinks and want glasses than can multitask. The best place to start is with sets of
wine glasses
,
highball glasses
, and
old fashioned glasses
. - these are the most broadly useful glasses out there. You can expand later based on what drinks you drink the most.
When it comes to purchasing glasses, you can find them at any department store for a reasonable amount. However, it may be worthwhile to search thrift stores for your glasses. I have gotten sets of waterford crystal glasses at a mere fraction of the resale cost. Most places sell glasses for less than a dollar. Paying so little can make it more palatable when the glasses inevitably break, but it does make it harder to replace a matching set.
What next?
Once you have all these items you are ready for the best part of setting up a home bar - the trip to the liquor store (or as I like to call it, the adult candy store). Join me for Part II as we explore how to stock your home bar with liquor.